The most frequently and rarely damaged cars in Europe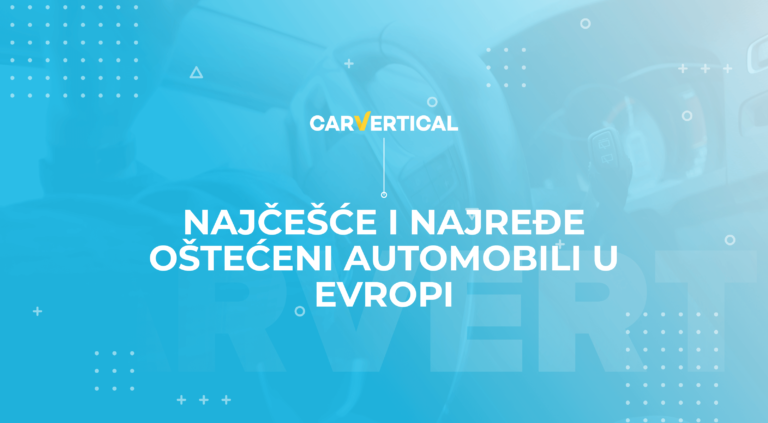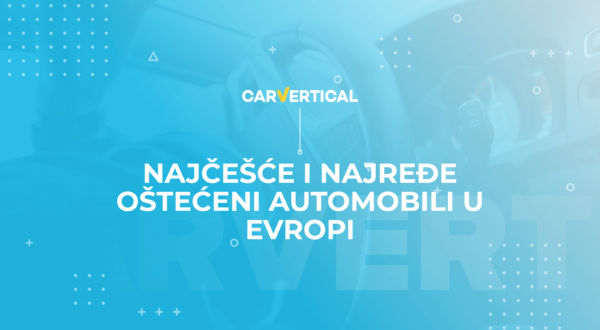 The most frequently and rarely damaged cars in Europe
One of the most important things you need to know about buying a used car is whether the car was in a car accident. If the car is damaged, its bodywork is weakened, which means that each subsequent accident is much more dangerous for both the car and the passengers. Also, it is very rare for drivers to adequately invest in repairs after a crash. There are more and more cases where a car is cheaply repaired in order to be able to sell.
The chance of bumping into and buying a damaged vehicle varies by car brand and model. While most drivers aspire to buy a reliable and modern car, younger inexperienced drivers are increasingly focusing on engine power, sporty performance, and the overall look of the car instead of looking at the passive and active sides of safety specifications.
Research Methodology
The source of information: This research is based on user-generated car history reports carVertical platforms. This platform provides a detailed report of the car's history using the VIN chassis number, according to which you can certainly get information about every accident in which the car was, every damaged part, as well as how much the repair cost, plus a lot more.
Study period: From June 2020 to June 2021.
Sample information: Nearly a million reports on the history of cars have been analyzed.
Countries involved: Poland, Romania, Hungary, Czech Republic, Bulgaria, Croatia, Serbia, Slovakia, Slovenia, Russia, Belarus, France, Lithuania, Ukraine, Latvia, Italy, Germany.
Top 5 Most Damaged Cars
Prema carVertical reports, the table below shows the five car brands in Europe that are most commonly damaged. Also, notice the most common models that are banged; all cars have different characteristics and are popular with different types of drivers.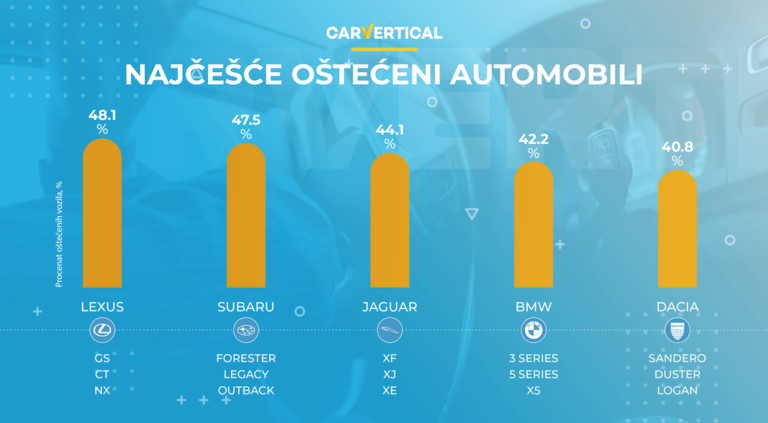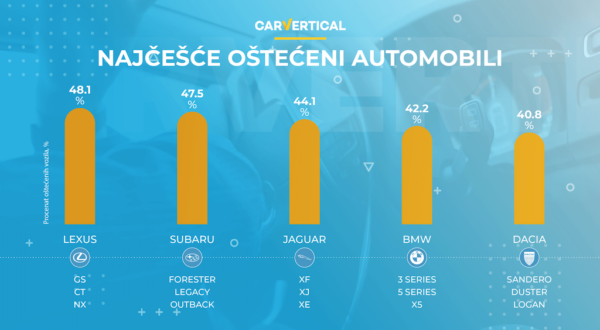 As you can see for yourself, Lexus takes first place. Cars of this brand are reliable and strong, and that is why drivers know how to overestimate their driving abilities, which ultimately leads them to disaster. The same goes for Jaugar and BMW cars. For example, the current version of the BMW 3 Series and Jaugar XF are relatively cheap cars for their brand, and yet they are too agile and fast.
In second place is Subaru, which clearly shows that even all-wheel drive systems cannot always protect you in awkward situations. Admittedly, those who buy Subaru cars more often drive outside the cities. Their sophisticated all-wheel-drive system (AWD) is able to overcome almost any challenge, but when a lot of ice or mud is suddenly found on a forest or dirt road, even then it is not certain that the car will stop fast enough.
And there is Dacia - one of the cheapest car brands in the world. They produce minimalist cars where the budget is mostly taken into account. Precisely because of its affordability, Dacia is characterized by weak horsepower, and accidents can happen mainly due to carelessness.
Top 5 Rarely Damaged Cars
Prema carVertical reports, the table below shows the 5 car brands that are the least likely to be involved in traffic accidents. It is alarming that even here we encounter high percentages; there is no car brand with a lower percentage because even when one accident happens, too often more cars are involved.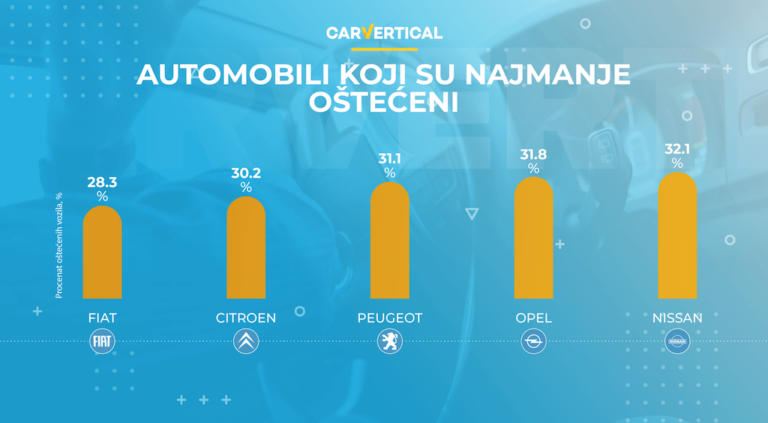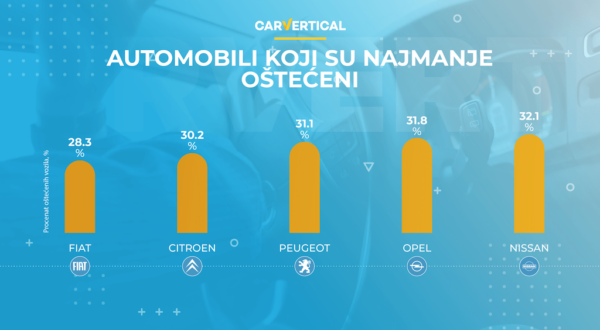 These results show that the popularity of the brand and the characteristics of the car influence the fact that the car is in an accident. For example, Fiat only produces compact vehicles. Citroen and Peugeot brands generally provide affordable cars with engines that vary between 100 and 150 horsepower. Features like this almost never appeal to drivers who want strong acceleration to break speed limits.
Top 10 countries with the highest percentage of damaged cars
During this study, carVertical analyzed reports from various European countries. The results in this table show in which countries the percentage of damaged cars is the highest.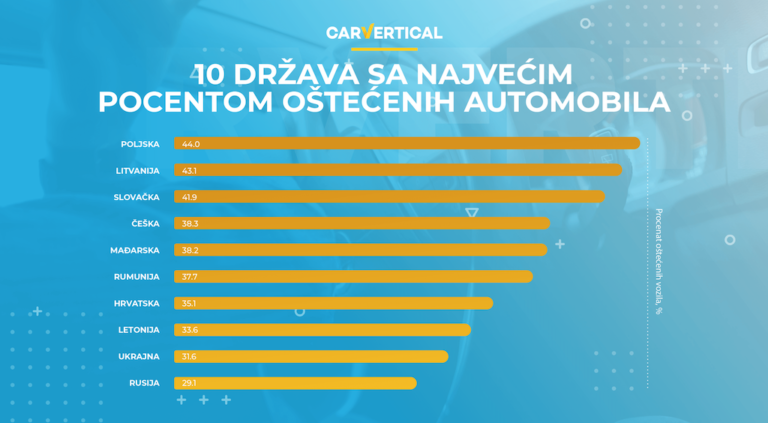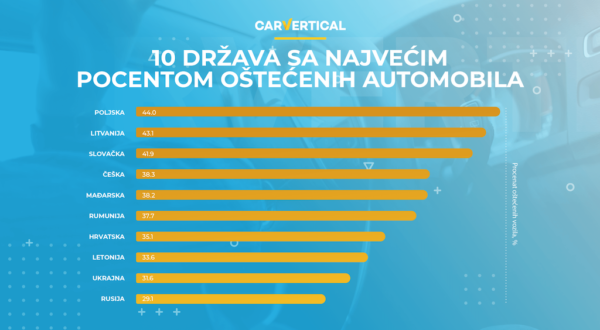 The variations shown in the table mostly relate to the habits of drivers and the economic level of the country. Those living in countries with strong gross domestic product (GDP) can afford newer vehicles on average. But when we talk about parts of Europe where wages are low, then it is more likely to drive cheaper vehicles that are most often damaged, or imported from abroad.
The habits and needs of drivers also affect these results in the table. Regardless of the fact that the previous research was imitated. This is because certain markets have a limited amount of data, which further leads to the fact that insurance companies have very little information regarding whether the car is damaged and the predispositions of the driver.
Conclusion
Today, traffic accidents are a growing problem. Writing messages, making calls, bringing in food and drinks - Drivers perform many other activities that, sooner or later, lead to accidents. Also, the engines on cars become too powerful for people to be on the verge of controlling the machine while driving.
Detailed car repair after a collision is very expensive, which is why not everyone can afford it. Originally, the condition of the car must return to normal, the airbags must return to their places, etc. This is the reason why most drivers find cheaper, less safe, variants. That is why it is an increasingly common phenomenon today to spot unsafe cars on the road.
The source of this article is carVertical.com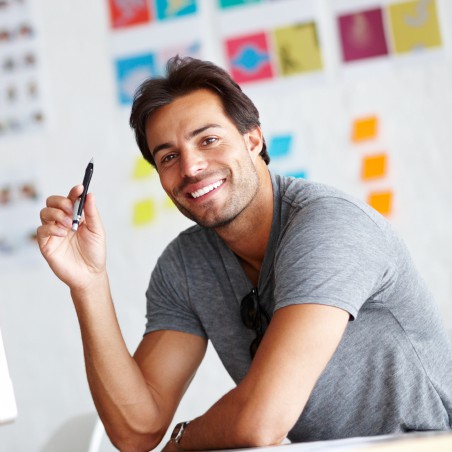 Hi there, I am Mladen and I am an auto enthusiast. I started this blog years ago to help like minded people share information about latest cars, car servicing ideas, used car info, exotic cars, and auto technology. You will find helpful articles and videos on a wide variety of cars - Audi, Mercedes, Toyota, Porsche, Volvo, BMW and much more. Ping us if you have anything cool to share on latest cars or on how to make older cars more efficient, or just want to say hi!