Suzuki Jimny 3rd gen. 1998 - 2018 - second-hand, problems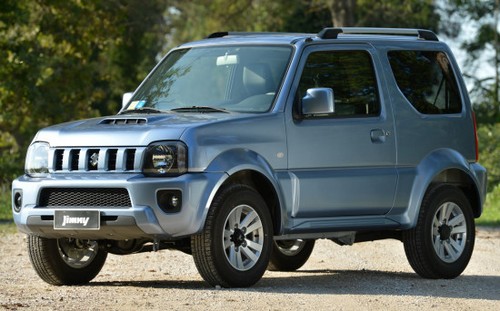 If you're looking for a small, swivel car that works just as well in a crowded city as it does in the field, Suzuki Jimny 3rd gen. is for you.
Like its predecessor, the Suzuki Jimny 3rd gen. is only sold with two body models as a 2-door convertible with a soft roof and a 3-door station wagon. The new Jimny has only one wheelbase (its predecessor had two wheelbases).
Suzuki Jimny is the perfect toy for singles and retirees living out of town. Jimny is also an interesting suggestion for off-roud fans. Thanks to its solid 4 × 4 system and lightweight bodywork, the car does quite well in unpaved areas. Successful body design also deserves praise. It is immediately apparent that the car likes a muddy deposit.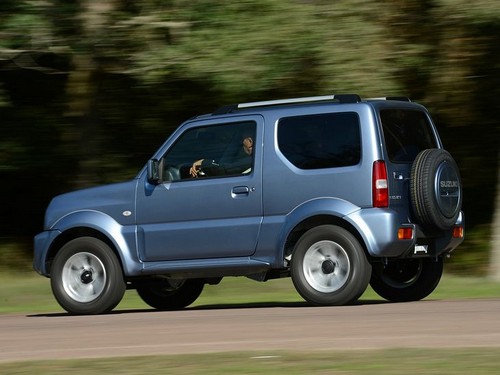 During its "career" the car has been upgraded several times: in early 2005 they made "adjustments" to the interior and slightly modernized engines, and in the summer of 2012 they changed the exterior and interior, but left the technical part intact ... and in the spring of 2018. its production is complete.
It is very manageable and the large mirrors and high position behind the wheel make it easy to drive around the city. It should be remembered that Jimny is a true reliable all-terrain vehicle.
In its dimensions Suzuki Jimny 3rd gen. is very compact: it is 3695 mm long, 1705 mm high and 1600 mm wide. The wheelbase of the mini off-road vehicle does not exceed 2250 mm, and the distance between the ground is 190 mm. The "Japanese" weighs from 1005 to 1074 kg, depending on the version.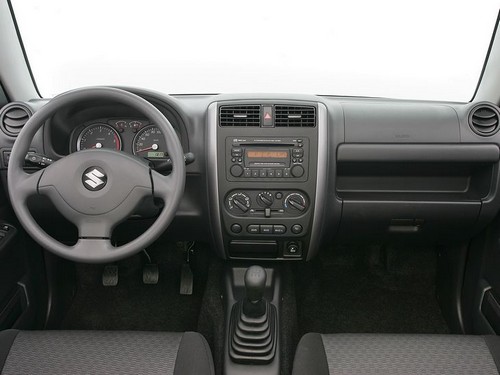 The luggage space of the SUV is only 113 liters. The rear part of the bench is folded into two symmetrical parts, which increases the amount of free space to a pretty decent 816 liters. True, in this case an uneven loading area is formed with a tangible "step".
Motorcycles - Suzuki Jimny 3. gen.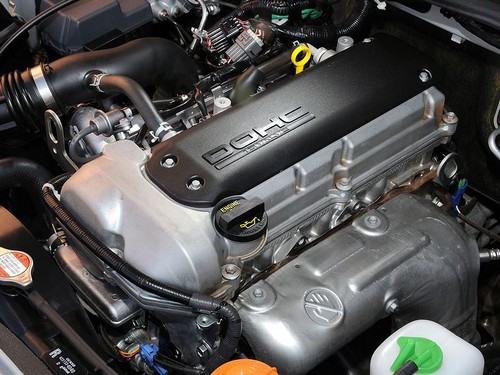 The smallest engine installed under the hood has only 3 cylinders and a volume of 0,7 liters. In order to slightly increase the efficiency of the drive unit, it is equipped with a turbocharger. However, the engine could not have more than 64 hp. You won't find models with a small 0,7-liter turbo engine - they are only offered in Japan.
The G13BB and M13A drive units are much larger, 1,3 liter capacity. The first engine has a 16-valve head and multi-layered fuel injection, delivering 76 to 86 hp (in Jimny's 80 hp). The second is the VVT, variable phase valve timing, which allows for 83 hp and maximum torque of 110 Nm.
The smallest diesel is a 1,3-liter turbo engine (DDiS designation) that achieves 70 hp. In turn, the largest diesel engine was a 2hp 170-liter engine, but it is available in a limited edition Suzuki Jimny. Between them is a 1,5-liter unit they jointly produce Renault i Nissan. Maximum power of 86 hp.
Like its predecessor, the Jimny III can be equipped with front-wheel drive, rear-wheel drive and all-wheel drive. In all-wheel drive, the rear wheel drive is basic, and the 4 × 4 system is activated by a button on the center console.
The Jimny can be fitted with a 5-speed manual or 4-speed automatic transmission.
Technical data: Suzuki Jimny (1998- 2018)
Version
1.3 16V
1.3 16V
1.5 DDiS
Motor
gasoline
gasoline
turbo diesel
Engine displacement
1298 cm3
1 cm328
1461 cm3
Cylinders / valves
R4 / 16
R4 / 16
R4 / 8
Max. power
80 KS
85 KS
64 KS
Max. torque
110 Nm
110 Nm
160 Nm
performance
Max. speed
140 km/h
140 km/h
145 km/h
Acceleration 0-100 km / h
14,7 s
14,7 s
17,0 s
Average consumption l / 100 km
8,2
7,8
6,5
Problems and malfunctions - Suzuki Jimny 3. gen.
Before buying a Suzuki Jimny, it is a good idea to look carefully at the powertrain. If the car was used in the field, replacement may require drive joints, forks, wheel bearings, engine mounts, rear and front axle internal components. In such halves there are also leaks from the propulsion system.
The alternator is also vulnerable to damage.
Users complain about problems with the brake servo.
If you plan to drive this car a little longer, it pays to invest in solid body and chassis maintenance - Jimmy has never made a mistake with good corrosion protection.
Of the minor disadvantages, we have to mention the bad radio. Before buying it is also worth checking the condition of rigid brake pipes, plastic buckles like to collect mud, which accelerates the corrosion of the pipe over time.
Despite the car's light weight, the front brakes can overheat. Durable drums are used at the rear, which of course no one is looking at. Therefore, the parking brake can also cause problems.
In cars after the redesign in 2005, there were minor failures of the electrical system responsible for switching on all-wheel drive and gearboxes. Generally, Jimny's electrical components are not Japanese as in Honda or Mitsubishi, so they will break down from time to time. It is usually lighting, wiper motor or other equipment that does not significantly affect the operation of the engine.
If the car is used in the field, then you must take into account the accelerated wear of the chassis components, as well as the synchronous transmission. Low engine torque means that a rapid reduction is often required, which in turn speeds up the wear of the transmission components. Before buying, it is worth checking whether the gears are easily changed at higher speeds. Many of them have an automatic transmission, they significantly increase fuel consumption, but they are reliable.
1.5 The DDiS unit is unfortunately not very successful. It's under this mysterious name francuski dCi engine. What's wrong with him? At miles between 150 and 000 km, the bearings rotate on the crankshaft, and in most cases there are problems with the injection system and turbocharger. Exhaust gas recirculation (EGR) valve also creates problems.
---
Suzuki Jimny Half Price - Used Half Review
---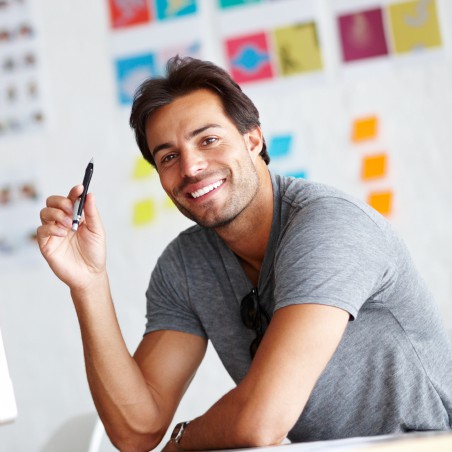 Hi there, I am Mladen and I am an auto enthusiast. I started this blog years ago to help like minded people share information about latest cars, car servicing ideas, used car info, exotic cars, and auto technology. You will find helpful articles and videos on a wide variety of cars - Audi, Mercedes, Toyota, Porsche, Volvo, BMW and much more. Ping us if you have anything cool to share on latest cars or on how to make older cars more efficient, or just want to say hi!