Opel Zafira B 2005 - 2011 Polovnik, advantages, disadvantages
The Opel Zafira B was manufactured from 2005 to 2011. The second is the Zafira mono-volume. The first model version was thoroughly modified, although the basic conceptual characteristics were retained.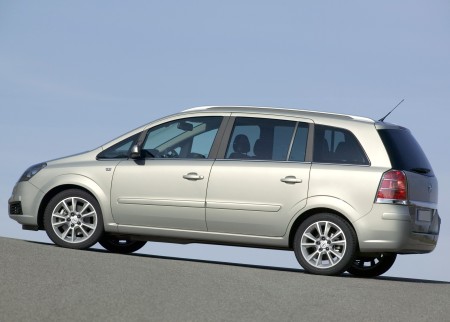 The form was well-groomed, which maintained the basic shape and proportions of the first model. It was able to put together an incompatible - massive monovolumenic form reminiscent of a smaller van and requirements for dynamism. At first glance, you can see excellent aerodynamics that contribute equally to performance and consumption. There's also a touch of trendy muscle-style and the Opel Zafira looks harmonious and attractive up front, from the back and from the sides.
Compared to the previous generation, it is 15 cm longer, 3.5 cm wider and half a millimeter tall. Wheelbase is increased by 1 cm.
The interior is as spacious as a mid-range sedan, especially in the front and middle row seats. It is almost sumptuously spacious, even for high-class people, and it is more than comfortable for the functionality. Two, three, four…, up to seven seats can be selected. The revolutionary Flex7 system allows folding seats, as in the first generation. Depending on it, the boot varies from 170 to 1720 liters. The Opel Zafira is a marvel of comfort and spaciousness.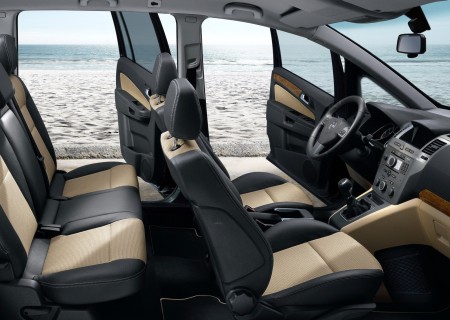 The materials used were of high quality as was the finish. Cockpit controls are optimally positioned, within easy reach of the driver. The gear lever, for example, is positioned higher to make it easy and comfortable to operate. This left room for a new U-shaped handbrake design integrated into the center console, and for an additional storage compartment.
Chassis Opel The Zafire is semi-rigid, with transversely connected longitudinal shoulders, which is surprising since all competitors have "Multilink" in the back. Lack of hardware is compensated by software - systems for adjusting the hardness of the shock absorber "IDS plus" and electronics to support stability ESP and the Opel Zafira offers quite decent stability. Admittedly, due to its elevated body, it tends to slip over the front wheels, but this is easily controlled by a precise steering wheel.
As far as safety is concerned, the car is at the very top. Eight airbags, extremely solid bodywork and a well-coated interior guarantee high protection for drivers and passengers. All this offers a calming dose of security. Complete electronic logistics to support drive and stability contribute to this.
Of the petrol engines, 1.6 TwinPort 104 hp, 1.6 VVT 113 hp, 1.8 VVT 138 hp, 2.2 VVT 148 hp and 2.0 Turbo 237 hp are available. Consumption of these engines is from 7.3 - 9.6 L / 100 km.
Of the diesel engines, 1.7 CDTIs of 108 and 123 hp and 1.9 CDTIs of 118 and 148 hp are available.
The consumption of these engines is 5.7 - 6.2 L / 100 km.
Advantages - Opel Zafira B
Flex 7 system
Spaciousness
8 airbags, great safety
Average spending
Reliability
Mane - Opel Zafira B
Base models poorly equipped
Too little trunk space (170 L)
Poor transparency
One-row seats in the second row
1.6 petrol engine too weak for seven people
The seats cannot be removed completely
Some optional functions are too expensive with accessories
Problems with the second speed - it is difficult to switch to it, and if you succeed, it can happen that it jumps out of that speed on its own
Retrieved from: auto-mane.com
---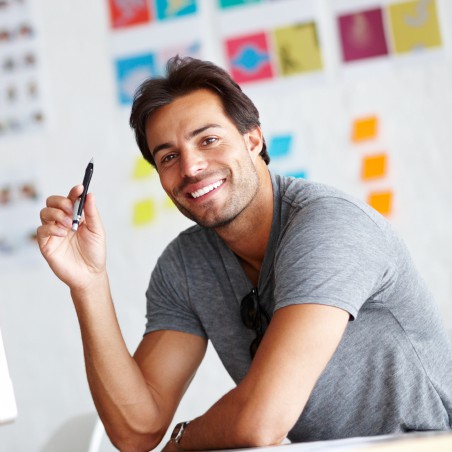 Hi there, I am Mladen and I am an auto enthusiast. I started this blog years ago to help like minded people share information about latest cars, car servicing ideas, used car info, exotic cars, and auto technology. You will find helpful articles and videos on a wide variety of cars - Audi, Mercedes, Toyota, Porsche, Volvo, BMW and much more. Ping us if you have anything cool to share on latest cars or on how to make older cars more efficient, or just want to say hi!