Ford Fiesta 6.gen. 2009. - 2019. - Used car, experiences, problems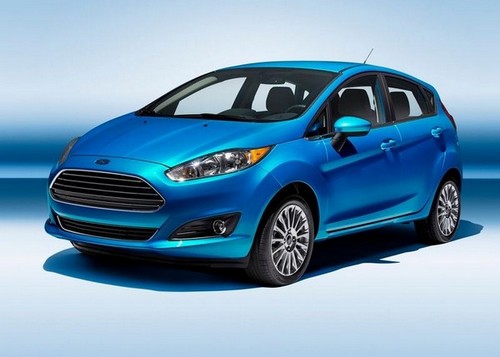 First generation Ford Fieste was not beautiful. They were simply gentle and often caused many problems for users. Ford Fiesta 6.gen. is completely different, at least visually. It's hard not to like a new dynamic figure. How reliable is it? Has anything improved?
Ford unveiled the Ford Fiesta 6 at the 2008 Geneva Motor Show. Sales began on the European market in early autumn 2008 in a three- and five-door version. The range of engines started with a petrol four-cylinder 1,25i (44 and 60 kW), then 1,4i (71 kW). Diesel engines represented 1.4 TDCi (50 kW) and 1.6 TDCi (66 kW). At the end of the year, an economical version of the ECOnetic 1.6 TDCi (66 kW) was added with an average consumption of 3,7 liters and in some markets the most powerful petrol engine 1.6 Ti-VCT (88 kW). The restyling, performed in late 2012, did not change the look of the model much, and the main change touched the front of the Ford Fiesta.
Ford Fiesta 6.gen. is characterized by good security. She went to Euro NCAP crash tests twice. In the first case, in 2008, it received five stars out of five stars, in the second case, in 2012 it won a total of five stars out of five.
In Europe Ford Fiesta 6.gen. was introduced as a 3 and 5 door hatchback, there is also a commercial version of the Fiesta Van with no rear side windows.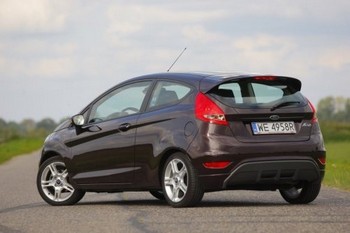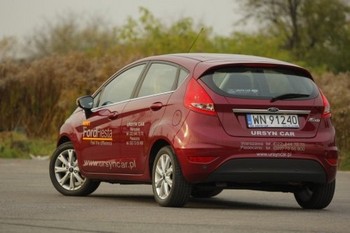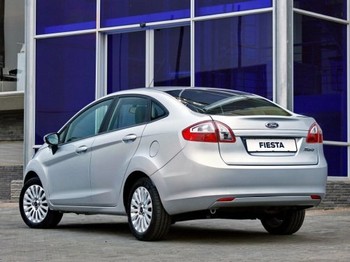 Ford Fiesta - Specifications

| Body type: | three door x five door x hatchback |
| --- | --- |
| Dimensions (L x W x H in mm): | 3950-4067 x 1695-1722 x 1467-1495 |
| Wheelbase (mm): | 2489 |
| Luggage space (l): | 281/965 |
| Drive: | Front-wheel drive |
| Fuel Tank Capacity (l): | 40-42 |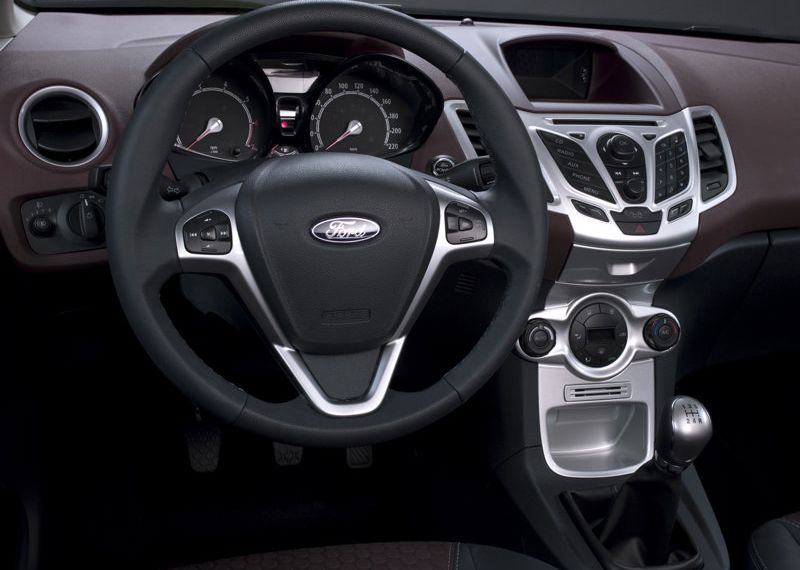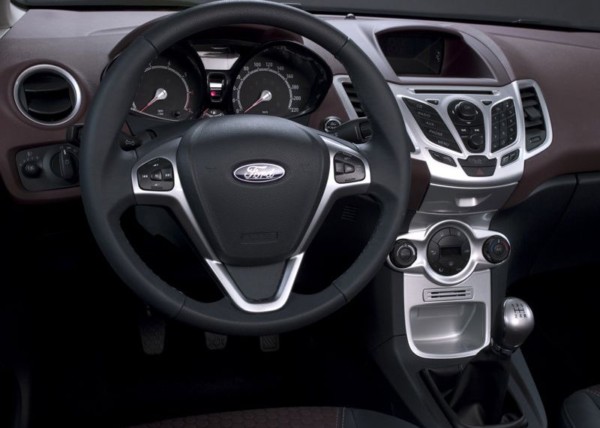 The interior Ford The Fiesta is presented with an attractive shape of the interior plastic and their color, which especially attracts the younger generation. It also has a sporty steering wheel and central controls reminiscent of mobile phone keys. The instrument panel is two-tone and matches the exterior. In more expensive versions, the instrument panel is made of softer materials. The interior treatment is at a good level, which results in minimal noise even after higher mileage. The ergonomics of the seat and control are good, the front seats in normal versions are characterized by decent seating comfort, it's a pity that the side posture lags behind the sports chassis. There is plenty of storage space inside, and the door compartments are shallow. The lack of roof racks is also a bit vague, and the view from the vehicle through the exterior mirrors and narrowed rear windows may be better. The trunk has a volume of 281 liters, which can be increased to 965 liters by folding the rear seats.
Ford Fiesta ST
An interesting version of the Fiesta ST, the top speed is 220 km / h and acceleration from 0 to 100 takes less than 7 seconds. It includes a 1.6-liter EcoBoost engine with 134 kW at 5700 rpm and 240 Nm of torque in the range of 1500-5000 rpm. The engine block and head are made of aluminum alloy, equipped with direct fuel injection, turbocharger and variable opening times for intake and exhaust valves. The chassis is 15mm lower than the standard version, and geometry and suspension settings have also been changed. The power steering gives sharper answers and the brakes are redesigned.
Ford Fiesta 6.gen. experiences - engines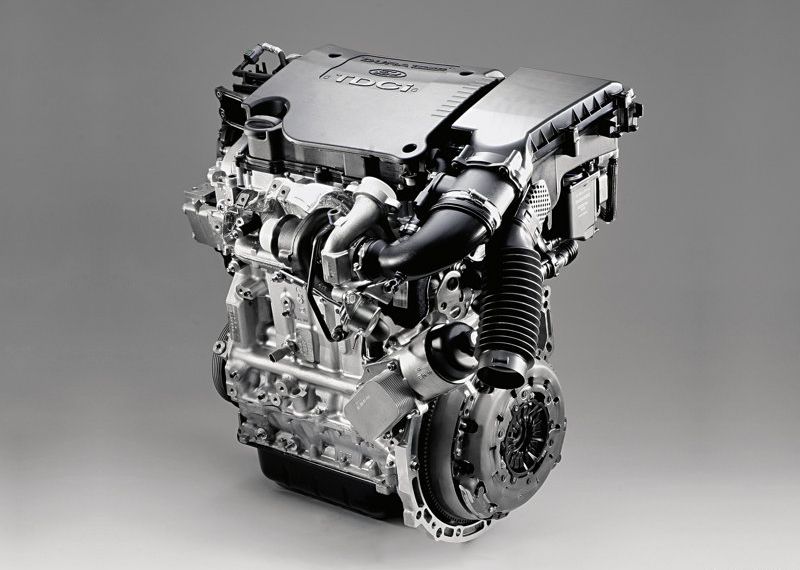 The range of engines was already quite diverse at the beginning of production, expanding over time. The base petrol engine was the Duratec 1,25-liter four-cylinder engine already known from the previous generation. Available in two versions of 44 and 60 kW. Exhaust emission regulations have affected the construction of the engine and, so the new Fiesta provides only average dynamic parameters, it is suitable for driving around the city.
The engine (especially the lower version) quickly loses power at steep inclines or acceleration at higher speeds, especially at higher loads. The difference in dynamics between the weaker and stronger versions is especially at higher speeds. Consumption is about 6-6,5 liters. On the reliability side, both engines work very well, paying attention to actual mileage. If the threshold of 200.000 approaches, the engine may already be mechanically overloaded, e.g. shows increased oil consumption and lower performance.
If you want to check the ability of the chassis more, you should choose a stronger 1.4 with 71 kW. Fuel consumption averages about 7 liters.
The most powerful naturally aspirated petrol engine in the Fiesta is the 1,6 Ti-VCT with 88 kW, after the 77 kW upgrade. The aluminum four-cylinder engine is equipped with variable opening times of the intake and exhaust valves. Engine consumption is on average around 7-7,5 liters, and more dynamic driving increases consumption to 9 and more liters. The engine would benefit from sixth gear, which would reduce speed on the highway, and thus fuel consumption and noise.
They are very interesting engines 1.0 EcoBoost turbo three-cylinder , available in two 74 and 92 kW versions. At low speeds, the engine is a bit noisier and does not deny its three-cylinder design. Above 2000 rpm, the engine will run quietly and offer fair performance, especially in the case of a stronger version. The low-speed turbo hole is noticeable, but less pronounced than the larger Focus. Consumption averages about 6 liters, the advantage is that even more dynamic driving does not increase too much and usually fits in at 8 liters.
Ford Fiesta 6.gen. 1.4 TDCi / 1.6TDCi
Those interested in diesel can choose between 1.4 TDCi (50 kW) and 1.6 TDCi (66 or 70 kW) turbo diesel. Both engines feature sophisticated acceleration and good fuel economy of about 4,5 liters. The weaker engine satisfies the less demanding drivers dynamically, the stronger 1.6 TDCi already allows for more agile driving even when the vehicle is under load. Compared to gasoline engines, diesel engines have a harder position, especially because of their higher purchase price, more expensive servicing and, in the case of the 1.6 TDCi 16V (66 kW), even lower reliability. The weaker 1.4 TDCi and the newer 1.6 TDCi 8V (70 kW) are decent in terms of reliability.
Most often, you may come across a five-speed manual transmission that has short and precise gear changes, short strokes. With the 1.4i (70 kW) engine, a four-speed automatic transmission was also available. It is characterized by comfortable gear changes, but there is a loss of power and increases consumption by about a liter. An interesting alternative that will particularly delight drivers with a focus on sports is the PowerShift six-speed automatic transmission, it is similar to the DSG from Volkswagen.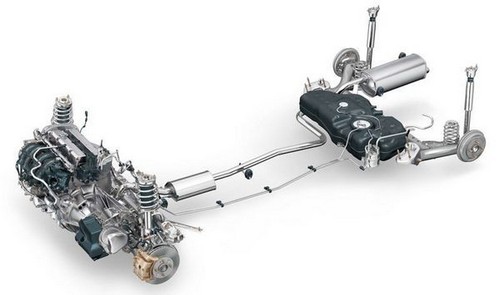 Ford Fiesta 6.gen. - Engines
| MOTOR | Volume | Engine codes | Power |
| --- | --- | --- | --- |
| 1.0 | 998 cc | XMJA, XMJB | 48 kW |
| 1.0 | 998 cc | P4JA, P4JB | 59 kW |
| 1.0 EcoBoost | 998 cc | SFJA, SFJB | 74 kW |
| 1.0 EcoBoost | 998 cc | M1JE | 92 kW |
| 1.25 | 1242 cc | STJA, STJB | 44 kW |
| 1.25 | 1242 cc | SNJA, SNJB | 60 kW |
| 1.3 | 1299 cc | A9JA, A9JB | 51 kW |
| 1.4 | 1388 cc | SPJA, SPJC | 71 kW |
| 1.4 LPG | 1388 cc | RTJA, RTJB | 68 kW |
| 1.4 LPG | 1388 cc | RTJA, RTJB | 71 kW |
| 1.6 ST | 1596 cc | JTJA | 134 kW |
| 1.6 Ti | 1596 cc | IQJA | 77 kW |
| 1.6 Ti | 1596 cc | HXJA, HXJB | 88 kW |
| 1.6 Ti | 1596 cc | U5JA | 99 kW |
| MOTOR | Volume | Engine codes | Power |
| 1.4 TDCi | 1399 cc | F6JA, F6JB | 50 kW |
| 1.4 TDCi | 1399 cc | F6JD, KVJA | 51 kW |
| 1.5 TDCi | 1499 cc | UGJC | 55 kW |
| 1.6 TDCi | 1560 cc | HHJF, UBJA | 55 kW |
| 1.6 TDCi | 1560 cc | HHJD, HHJC, HHJE | 66 kW |
| 1.6 TDCi | 1560 cc | TZJA, TZJB, T3JA | 70 kW |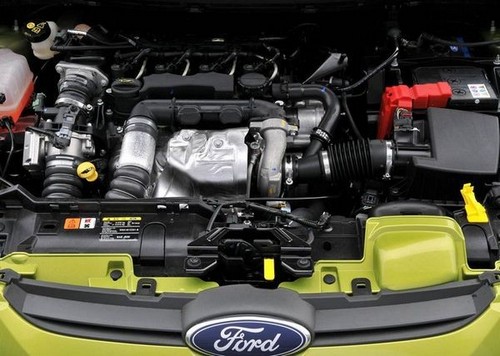 Ford Fiesta 6.gen. problems and failures
Ford Fiesta 6.gen. belongs among the relatively reliable vehicles, especially the petrol versions. In the early years, there were more frequent electronics failures such as non-functional ABS, car radio problem when playing music from USB, engine noise - control unit failure, battery discharge via handsfree control module or sometimes locked seat belt, damaged antenna holder. The Fiesta has no problems with corrosion, only some parts can have problems with the consequences of hitting pebbles.
At higher mileage, knocking on the front axle will begin to appear, worn stabilizer bars are usually heard first, and excessive play at the ends of the links or shoulders can also develop over time. Also, pay attention to the hum of the bearings, which usually occur at higher mileages which affects the front axle. Occasionally there is noise or squeaking from the rear shock absorbers, which can be caused by a lack of lubricant - just lubricate. Especially for stronger versions, it is necessary to check the condition of homokinetic joints, which do not have a long lifespan. If there is a click when the wheels turn completely to one side or the other, it is from worn-out homokinetic joints. Noise is sometimes released by the steering column, especially when turning at low speeds (until mid-2010) or by the clutch pedal return spring (lubricate only) or by the side opening / closing windows.
In the case of petrol engines, beware of jerking when accelerating. This error is often accompanied by the engine malfunction lamp illuminating. The cause is either a malfunction of the control unit, a throttle or a poorly functioning pedal position sensor. If the engine runs unevenly. on "smaller" cylinders, the most likely problem is the coil or a non-functional lambda sone, or the catalyst is damaged. Engine oil leaks occur here at higher mileage.
For diesel engines, refueling (sometimes adding additives) and changing the fuel filter regularly are recommended. The greater the number of impurities contained in diesel fuel, the fuel filter results in poor acceleration or loss of thrust at higher speeds. Of course, more impurities also pose a risk to the injectors that can clog, resulting in a difficult start or improper start of the engine. Often it will help the injectors to clean themselves professionally, but sometimes cleaning does not help. Oil leaks can occur over many miles, often due to crankcase ventilation hose leaks.
Older 1.6 HDi 16V 66 kW engines often have problems with over-used turbines, dysfunctional EGR valves, oil leaks, and various problems caused by oil-degrading soot (loss of compression, ducts, connecting rod bearings, etc.).
With 1.6 HDi, when changing the engine oil, it is impossible to drain all the oil due to the improper formation of the oil pan, so it is recommended to change the engine oil more frequently (max. 15.000 km) by flushing with fresh oil or from time to time (at least once) at 100.000 km. ) disassembled and properly cleaned the crankcase oil. Otherwise, the deposits that remain at the bottom will flush out the new engine oil, which will adversely affect the engine and its components to wear out faster.
In the case of the 1.4 TDCi engine, beware of the sudden inability to start the cold and hot engine. This is a solenoid valve failure to control the pressure on the high pressure pump.
The 1.4 TDCi diesel engine leaks fuel in the return line and around the injector. The problem is manifested by the smell of diesel under the bonnet and in the cab.
Higher mileage can mean excessively worn injectors, resulting in uneven and noisy idling, a poorer cold start, or poorer performance. clutch engagement or noise when accelerating from lower gears. Then it is most likely the fault of excessively worn floating flywheels. Diesel engines are equipped with a soot particle filter (DPF), whose service life is about 150.000 - 200.000 km, depending on how the vehicle is used. Sometimes the life of the filter is longer, but sometimes shorter, especially if you drive on shorter routes and the filter fails to regenerate. Problems with the filter are usually reported by the ignition of the light on the instrument panel and the transition of the engine to safe mode. Approaching the end (clogging) of DPF filters is usually manifested by an increased frequency of regeneration along with a slight increase in consumption. For diesel engines, it is important not to extend the oil change service interval and to adhere to the max. 15.000 km.
More owners complain of intense front tire wear.
For 1.6 TDCi engines, due to exposure and low housing position, account should be taken of possible damage caused by obstacles.
Some owners report getting water into the trunk and about a foot of the passenger's legs due to clogged ducts.
Very sensitive plastic inside.
Vehicles made before the start of 2010 face a weak cabin heater (slow heating).
Frequent breakdowns of the button to open the trunk. The problem is the automatic opening or complete interruption of the operation and is caused by water leakage, most often due to poor sealing around the rear window wiper.
In older vehicles, there is a problem with the operation of the radios and the air conditioning system, which can be solved by reprogramming the control unit.
---
---
Ford Fiesta Half Price - Used Half Review
---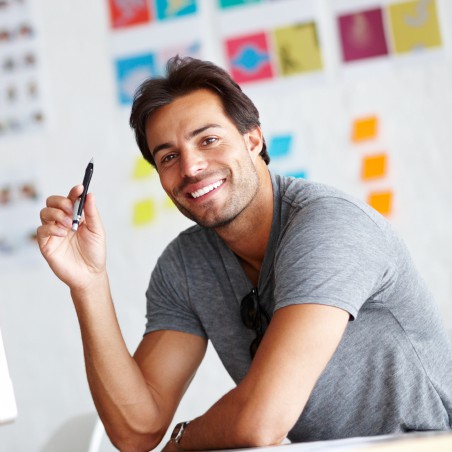 Hi there, I am Mladen and I am an auto enthusiast. I started this blog years ago to help like minded people share information about latest cars, car servicing ideas, used car info, exotic cars, and auto technology. You will find helpful articles and videos on a wide variety of cars - Audi, Mercedes, Toyota, Porsche, Volvo, BMW and much more. Ping us if you have anything cool to share on latest cars or on how to make older cars more efficient, or just want to say hi!