Gearbox with dual clutch. . .
People are lazy, people are spoiled, people want kids and money. I'm no better either, so I can't blame them too much. In addition, I have a back problem, so I decided it was time for my first automatic. Still, I wasn't ready to give up on performance, and I didn't even have to stop by the pump twice a day, as much as I liked the smell of gasoline fumes. In response, a seemingly impossible combination of demands in my mind came up with a Getrag Powershift dual-clutch robotic transmission. He descended from the sky on a golden pedestal lit by divine light with dramatic music and confetti.
The idea behind it and similar solutions (DSG, DCT) is ingenious in itself. Many claim that the dual-clutch gearbox has combined the best of the two worlds: the manual and the automatic, but the truth is that it is much more than just combining them. It offers better performance, better economy and a better driving feel than both of these classic approaches. Unfortunately, this has its price, and that is the increased complexity. It's a price that makes sense when it comes to high-performance vehicles, but when it comes to an ordinary family car, the value-for-money ratio becomes debatable.
In theory, this assembly represents two independent, three-speed manual transmissions, connected by a system with two parallel clutches, each with its own input shaft and hydraulic actuators controlled by a computer-mechanical component known as mechatronics. One clutch is in charge of the odd and the other of the steam speeds, making it practical to keep the car in two gears at once. The mechatronic predicts what the next gear is and moves voters to the required position. As the gear changes, one clutch starts to detach and slip, allowing the other to take over and adjust the engine speed. It all happens in a split second without losing torque which gives you a great sense of acceleration and great economy. Sounds complicated? Don't worry, it's far more complicated than you think.
Although sophisticated, this technology has been widespread for about fifteen years, since the VW Group introduced the first mass-produced gearbox of its type, commonly known under the commercial name DSG (Direkt-Schalt-Getriebe), based on the principles set by Porsche back in the 80's. those years. Unfortunately, although extremely comfortable to drive, the DSG has proven to be quite unreliable, especially with the 7-speed and dry-clutch design (manufactured before 2009). The culprit was mostly mechatronics, but also inadequate gearbox oil. Similar to that, Ford has gone barefoot with its Getrag 6DCT250 dry-clutch gearbox fitted to Fiesta and Focus gasoline and which has brought them debacle, huge lawsuits and catastrophic costs in USA and Australia. Cause? Too much heat in the middle of friction that damaged the electronics, but also bad gaskets that leaked oil over the (not so dry) clutch.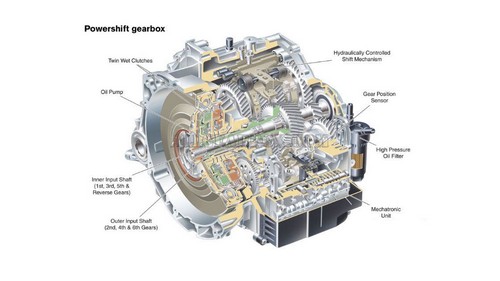 Knowing all this, I opted for a more durable Powershift 6DCT450 variant with wet clutches, which was installed in various Ford (Focus, C-Max, Mondeo, S-Max, Galaxy) and Volvo models from 2009 until today. V40, S60, V60, XC60), Mitsubishi (Lancer, ASX, Outlander), Peugeot (4008), Citroen (C-Crosser) and Dodge (Journey). After all, Getrag has spilled its dual-clutch solutions all the way to cars like the BMW M3, Mitsubishi Lancer Evolution X and Mercedes-Benz SLS AMG. A recommendation is enough for me. And more than that.
The small catch with the concrete gearbox is that it is accompanied by a regular maintenance interval of 60.000 km, which ensures that the oil is not covered by small particles of friction material from the lamellae. Respect the interval, change the oil and the external transmission filter every 45.000km for safety and enjoy heaven on earth. Don't respect him and face the hell called "Transmission limited function". Some Luigi who, more than obvious, drove my latest pet before me did not respect the interval. Porca miseria Luigi, vaffanculo!
After a thorough check of the car on the car and a fairly long test drive, I decided on one of the best preserved used vehicles with this gearbox that I had the opportunity to see. The impeccable engine, almost intact interior and all four tires at 3 months old should have lit the warning light, especially when considering more than the good price. However, I failed to find his flaw and the pact with the devil was signed. Just in case, as cautious as I am, I have scheduled an appointment at an authorized service facility to get everything done, including regular gearbox service. The service confirmed the correct mileage of 154.000km and found no fault on the engine, transmission, or any other system. As a true straight winner, I drove through the service gate into the sunset, unaware of the complete eclipse that awaited me the next day.
The first thing I felt was something like a clutch slip. It sometimes appeared, for fifteen minutes at a time, when moving out of place, in the form of a jump in the number of revolutions to idle and a sudden jerk forward immediately afterwards. Soon the problem became more frequent and appeared in motion, with a rough change of gear during acceleration, but also braking. Two days later, the message "Transmission limited function"And the car barely dragged itself back to the authorized service. There, they greeted me with astonishment, saying that they had exclusively changed the oil and the filter, and that it had absolutely nothing to do with them. At my insistence, which included a raised tone, mentioning superiors and this portal, they agreed to take the car across the line and investigate what was happening.
After two days of pure agony, news arrived from the PR of the authorized service: The gearbox is faulty and they are not able to repair it, but they can replace it with a new one. Of course, with the symbolic price of 4.800… 4.800, I asked him as I looked for my father's hunting double-barreled rifle. The man on the other side of the connection remained sober and advised me to seek the help of a specialist for automatic transmissions, still claiming that the problem had nothing to do with the work performed at them.
Hand to heart, it turned out later that he was right, but at that moment I was thinking of driving, with my car so broken, through the service desk sideways and across. No one is trying to repair a malfunction again, only if something can be removed and a new one installed, a pair of screws, some machine grease, and a plastic sheath restored. So I can open an authorized service.
As I thought about how a woman would finally divorce me for a reason, because this is definitely a full glass drop, I searched online for other drivers' experiences and potential service that could solve my problem without selling my kids white slaves. I dialed the number, made an appointment, and somehow pulled into a small, unsightly service at the other end of town, where the car remained for the next 16 (and sixteen) days.
I used that time to fantasize about filling it with gasoline and throwing a zippo lighter in a slow-motion phase, then casco-securing it and sneaking into authorized service by jumping at the last minute, etc. From my mind, on the 16th day, I was told by a master who solemnly proclaimed that the car was finished and that the problem was solved for a costly 1.500 euros, three times less than the price of the new transmission. As my feelings of joy shifted over the right car and worrying about who to sell my kidney to, I ran to find out what was the problem and what had actually been replaced.
An overhauled double clutch assembly, hydro block service, replaced inlet speed sensor, new oil and filter were just some of the items on the bill, with a one year warranty. The fins were over, the floating flywheel springs had failed and the plastic around them had broken. The sensors and solenoids were flooded with dirt that Luigi had so devotedly collected since 2011 when the car was purchased new. Although a big blow to the budget, it all gave me a great sense of security for the future, especially since I knew that from that moment on, that gearbox would only see regular and quality maintenance.
I put the lady in the car and drove to Žabljak, to redeem myself - of course. We covered about 800 kilometers of the purest enjoyment, imperceptible changes of speeds and incredibly low consumption. On the open road, this gearbox is on its own, with intuitive gear changes that the driver can almost control by carefully working on the accelerator pedal. Also, the computer takes into account the slope of the road, which enables engine braking on downhills, while at the very indication of an uphill, the car shifts to a lower speed, almost imperceptibly.
All that wonderful experience, only that upon my return to Belgrade I would be drenched in cold sweat again. "Transmission limited function"He grinned at me again from the dashboard, while only odd speeds were available to me. The problem was solved by shutting down the engine, only to reappear after a few minutes. Since I did not plan to turn off and start the engine every two kilometers, I contacted the service of automatic transmissions and, to the immense joy of the master, called for a guarantee.
Although at no extra cost and shock, it still took me 15 more days on the crane, new software to be licensed from Getrag, as well as the knowledge that the gearbox parameters had been maliciously compromised so that the original clutch and sensor problem would not be noticed. This was obviously all experienced by our friend Luigi back in Italy to make the car easier to sell and here are the explanations why I did not notice the problem during the test drive, as well as why the problem appeared immediately after changing the oil and changing its viscosity.
So that this would not be the end, but also so that you could learn as much as possible from my mistakes, from then on, from time to time there are somewhat rougher changes in gear, especially when moving, between 1st and 2nd, as well as 2nd and 3rd .speed. No light is on, but diagnostics warn "Adaptive Learning not completed", Which still sounds much better than that horrible mistake from before. My master's advice is to do the adaptive learning, which is necessary every time after replacing the gearbox components, in an authorized service center through the original computer diagnostics. However, for now it is too rare for me to pay my respects to them again, and I am a bit weak with time, I do a couple of jobs at once to cover some of the expenses I had.
All in all, my feelings have never been so divided as when it comes Getrag Powershift 6DCT450. When it works, it works better than I ever imagined that one such circuit could do that. Speed ​​changes are instantaneous, acceleration is continuous, and consumption is low even when I drive inspired. But when it doesn't work… Then it's expensive, complicated and, perhaps the worst, even dangerous. If you want free advice (it's free for you, it has cost me 1.500 euros so far): Buy a car with this gearbox only if you have access to the original service book and if it unequivocally lists every regular gearbox service at 45 to 60 thousand kilometers. If you decide, I'll hold your thumbs, and God forbid, hold me.
Taken as a whole from: www.automanijak.com
---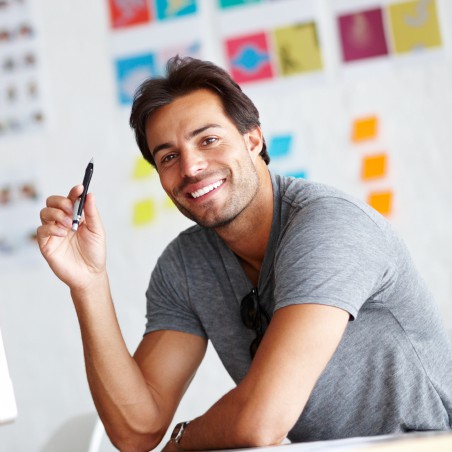 Hi there, I am Mladen and I am an auto enthusiast. I started this blog years ago to help like minded people share information about latest cars, car servicing ideas, used car info, exotic cars, and auto technology. You will find helpful articles and videos on a wide variety of cars - Audi, Mercedes, Toyota, Porsche, Volvo, BMW and much more. Ping us if you have anything cool to share on latest cars or on how to make older cars more efficient, or just want to say hi!