Audi A4 B6 2000 - 2004 - used, experiences, problems
Audi is one of the leading cars that hold its value. There are several reasons for the relatively cheap spare parts, prestige, good equipment packages and a wide range of diesel engines.
The Audi A4 B6 debuted in 2000 as a sedan, joined the station wagon a year later. Like its predecessor, it has a longitudinally mounted engine and, depending on the version, front-wheel drive or all-wheel drive. The biggest innovation is not the body itself, the Audi A4 has received a brand new multi-link rear suspension, the one previously offered only in quattro versions.
Driver and front passenger airbags, side airbags and, belt tensioners, ABS and power steering are standard on all Audi A4 models. In addition, electronic stability control is standard on the car. U Euro NCAP in crash tests, the Audi A4 received four out of five stars in 2001 for occupant protection - a good result.
The Audi A4 is one of the most popular mid-range cars. In the second generation, the Audi A4 B6 is offered in three body versions: sedan, wagon (Avant) and convertible.
The Audi A4 B6 was built for only four years from 2000 to 2004, the convertible version from 2002 to 2006. There are also special models that, as standard, instead of front-wheel drive, we have four-wheel drive, the "Quattro" model. The engines are four and six cylinders with a power of 102 hp 220 hp - diesel range of 101 hp - 180 hp. The rare sports model S4 is powered by a V8 with 4,2 liters and 344 hp.
The Audi A4 is in a slight increase in body compared to its predecessor, it has automatically acquired on the spacious interior, improved, quality finish, which can not be objected to. The Audi A4 B6 provides comfortable travel conditions for a family of four, a high position in the rank of ADAC reliability suggests that maintenance will not be too expensive.
Many Audi A4s start their lives as a business car and assemble for several years, often with many miles. Offering older, low-mileage Audi A4 B6s is rather scarce, but on the other hand, one should not shy away from well-maintained Audi A4 B6s. Pay attention to timing belt replacement, especially with diesel engines.
The Audi A4 B6 has moved one step closer to rivals Munich and Stuttgart.
The Audi A4 B6 was restyled in 2004, since then it goes by the name Audi A4 B which will say that Audi is a new generation, but the technical base and instrument panel have remained the same.
COMFORT - Audi A4 B6
With the Audi A4 B6, the designers optimized the chassis shape, including an upgraded suspension solution. The coefficient of air resistance is 0,28. Overall length 4547 mm, new A4 69 mm longer than its predecessor, 1766 mm, width is wider by 33 mm and height of 1428 mm has increased about 13 mm. Audi engineers have made significant progress in building the chassis, the chassis is now about 45% stiffer than the previous version. Thanks to this, it improves steering characteristics and also reduces vehicle noise. Aerodynamic chassis optimization reduces vehicle wind noise by 3 dB.
The luggage compartment of the Audi A4 B6 sedan has a volume of 445 liters. In September 2001, the Audi A4 Avant wagon came, offering more space for not only passengers but also luggage. The trunk has a basic capacity of 442 liters, with the rear seats folded down reaches a space of 1184 liters. Under the boot of the caravan is double, under the false bottom, there is 65 liters of space for small things.
The interior of the Audi A4 B6 is extended by 3,2 cm (the same wheelbase increase), allowing rear passengers to have about 4,3 cm more knee room. Still, the Audi A4 B6 has a little less interior space than the massive silhouette suggests.
The interior of the Audi A4 B6 uses good quality materials and the fitting is flawless. The seats provide good support. Fortunately, the space has been significantly improved over the previous model and is much more comfortable as a result on longer journeys.
Rear space is good, but taller passengers can feel a little cramped, especially for their knees.
A great example of clear design, simple controls and sophistication, the Audi A4 B6 has a truly exclusive feel. Instrument counters are easy to read and features such as a computer screen are easy to operate.
The driver's position and overall visibility is excellent with the Audi A4 B6.
As befits the premium segment, Audi has offered customers an abundant catalog of options. Rare are the Audi A4s with basic equipment - especially in Western Europe, where customers can afford to buy expensive cars. For this reason, it is difficult to talk about the typical configuration for the Audi A4. Most copies on the secondary market have ABS, ESP, six airbags, automatic air conditioning, trip computer and electric windows and mirrors.
The Audi A4 B6 transmits and manages systems with adequate precision and well-tuned suspension, as well as getting the perfect car for long journeys. If you value comfort, you should cancel your purchase of an Audi A4 B6 with large diameter wheels. Sports suspension is not recommended, tight springs and shock absorbers are limited in comfort, an even bigger problem is lowering the car, which increases the likelihood of damage to the lower machine component, bonnet and crankcase.
Audi A4 B6 - Engines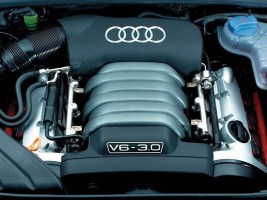 The Audi A4 B6 has a very wide range of engines.
The Audi A4 B6 has 1.6 (102 HP), 1.8T (150 HP, 163 HP and 190 HP), 2.0 (131 HP and 150 HP), 2.4 V6 (170 HP), 3.0 V6 (218 HP) and 220 hp) and 4.2 V8 (344 hp).
From diesel there are turbo diesel 1.9 TDI (101 bhp, 116 bhp and 131 bhp) and 2.5 V6 TDI (155 bhp, 163 bhp and 180 bhp).
The basic engine on offer for the Audi A4 B6 is 1,6 8V with 75 kW / 102 PS and 148 Nm. It is too weak, a perfectly acceptable engine for city driving. It does not deliver a fantastic effect, from 0 to 100 km / h in 12,9 seconds, max. speed 190 km / h. The engine is very durable, inexpensive to maintain, and works great with LPG systems. People who primarily go for low cost referrals are 1,6 liter petrol.
Then, there's the 1,8-liter turbo, five valves per cylinder. Optimal balance between performance and fuel consumption is ensured by turbine filling. The 1.8T (150 hp) -turbo gives this car a useful power boost. Among the 1.8 T 150 hp petrol engines on offer: powerful and responsive, this 4-cylinder turbo is probably the best price / power compromise.
1.8T (163 hp) - Better performance without increasing fuel consumption.
1.8T (190 hp) - Great performance.
2.0 (130 hp) - Lower fuel consumption than 1.8, but not performance. The 2.0-liter with 96 KW / 130 hp compared to other petrol versions is quite conventional. The 2.0-liter petrol engine with 130 hp was on offer throughout the production period of the Audi A4 B6, with a consumption of around 8,5 to 9,0 liters per 100 km.
The 2.0 FSI engine (gasoline direct injection) has 110 kW / 150 hp. The FSI unit is a great blend of performance and efficiency and a real highlight in gasoline offerings. A new FSI version of the engine appeared in September 2002.
2.4 (170 hp) - A larger engine means higher fuel consumption than the powerful 190 hp 1.8T.
3.0 (220 bhp) - With this large engine, the performance comes with an expensive upkeep and continues with five valves per cylinder. The 3.0 V6 engine has 300Nm of torque at 3200rpm. This allows the car to accelerate from 0 km / h to 100 km / h in 6,9 seconds.
The fastest 4,2-liter S4 offers performance. The rare Audi S4 4.2 V8 engine is a suggestion for fans of fast cars - less than 6 seconds to "a hundred per hour" is still impressive.
1.9 TDI (100hp) -Ultra modest, but powerful speed is felt. Best for fuel costs and best for short distances.
1.9 TDI (115 bhp) - Great compromise between three 1.9 TDIs.
1.9 TDI (130 hp) -hit thanks to low operating costs and excellent performance. Good for long distances. The 130 hp 1.9 TDI offers good fuel consumption and a lot of power. 131 hp and 310 Nm Audi A4 B6 can accelerate to "hundred" in less than 10 seconds. With an average fuel consumption of 6,2 l / 100 km.
The best engine version is the 1.9 TDI PD. This time, the engine is equipped with a pump-injector injection system. It comes in two versions 100 hp weaker and 131 hp stronger. The first of these is the thrift recorder. The other consumes a little more fuel, but looks optimal for this model. Both are very sensitive to electronic tuning, cheap to maintain, and reliable, though of course you have to understand that most of the mullets available in the mulberry market have traveled more than 250000 km, and if the value per 100000 miles can be read XNUMX km lower.
The best PD engines are from the mid-production 1.9 TDI with magnetic injectors. Avoid later Piezo injector engines. The earliest PD engines had a rather complex and strange fuel cooling system which is also better avoided.
2.5 TDI (155 hp) - Powerful engine fits 130 hp 1.9 TDI engine but is more sophisticated.
2.5 TDI (163 HP) - As above, but with improved performance.
2.5 TDI (180 hp) diesel engine with performance.
The 2.5 V6 TDI is known for its not very permanent camshaft injection and decay.
The engines come with a five-speed manual transmission, or alternatively, with the Multitronic automatic infinitely variable transmission.
It is not recommended to buy Audi A4 B6 with Multitronic transmission, it is not available on quattro versions. Especially when working with a diesel engine - high torque significantly reduces the transmission time. When the mileage reaches 200 km, the transmission usually requires expensive repairs. Transmission status, you can check with diagnostics. Of course, a large number of A000 repairs of the Multitronic have already passed, but that is transferred to the asking price of the car. In this case, you need to check the service book and the frequency of oil changes in the transmission. The classic "automatic" Tiptronic available in quattro, does not make expensive surprises. The only drawback is the moderate switching pace.
Multi-link suspension with aluminum components provides excellent road holding, but the components are sensitive to driving on bad roads.
Model History- Audi A4 B6:
2000 Audi A4 B6 is launched with a sedan body. Engines 1.6 (102 hp), 1.8T 20V (150 hp), 2.0 20V (131 hp), 3.0 30V (220 hp), 1.9 TDI (131 hp), 2.5 24V TDI (179 hp). ESP, six airbags and automatic air conditioning as standard.
3.2001. New base model A4 1.6, 102 hp.
5.2001. New 100hp TDI.
6.2001. Introduced A4 Avant.
8.2001. New 2.4 V6 with 170 hp.
11.2001. 1,6 petrol engine and 100 hp TDI also available for Avant.
7.2002 The Audi A4 B6 gets a 2.0 FSi petrol engine, version S4 4.2 V8 40V engine (344 hp).
2002 Audi A4 Cabriolet introduced.
Autumn, 2004 - Audi A4 restailing, restailing introduced as the new Audi A4 B7.
Audi A4 B6 - breakdowns and problems
Used Audi A4 B6 on TUV have a very high rating. It is worth noting that the Audi A4 rating. Audi A4 B5 Older and newer Audi A4 B7 and B8 are in a worse situation. The condition is the result of many factors. Of course, of great importance is the fact that the Audi A4 B6 was created before the advent of stringent exhaust emission standards, in the fight for the highest engine performance.
TDI engines suffer from known problems with the flowmeter, the turbine, to the irregular replacement of the gear train (belts and their auxiliary components). For the gasoline engine, problems were reported with the ignition system and the fuel pump.
1.6 and 1.8 T V6 petrol engines, on Audi A4 B6 produced between January 2001 and January 2003, bobbin failures. The replacement is partially or fully supported by Audi, depending on the age and mileage of the car.
1.8 T. Engine On the 4 Audi A6 B2001 XNUMX, potential turbine failure at higher miles.
The Audi A4 B6 2.0 FSI can use a lot of oil in the first 20 km.
In the FSI of the engine there are problems with the water pump not working, the engine overheating is a result of the temperature rise.
Rumors of a chain spanner failure on the S4 4.2 V8, possibly due to dirty oil. Regular engine oil and oil filter should be changed.
Some owners of Audi A4 report cracked engine blocks on 3.0 V6 petrol engines.
The Audi A4 B6 2.4 V6 is prone to excessive oil consumption.
TDI engine. Some cases of problems in the ECU of the engine, including the 2.0 TDI: Setting the passive mode with reduced performance. It can reset the computer with the ignition off after a few minutes or require reprogramming of the ECU engine.
TDI engine. In some cases, the engine electronics malfunctioned, especially in cold conditions.
TDI engine. On diesel by the end of 2002 (especially the TDI 130 V 6 TDI), progressive power loss due to the contamination of the flowmeter. Solution: no cleaning possible, flowmeter replacement required.
Audi A4 B6 1.9 TDI 130. On models manufactured by August 2001, acceleration holes 2500 to 3000 rpm and lack of power. Caused by loss of vacuum hose seal, vacuum hose material aging.
Audi A4 B6 1.9 TDI 130. engines manufactured by November 2001 have idle vibrations and engine performance may become chaotic. A problem with one of the fuel injectors. The injector injects too much fuel. Replacing the injectors is the only solution, but it is very expensive.
Audi A4 B6 2.0 TDI, problems sealing the injection pump pump on some models.
Audi A4 B6 2.0 TDI (140 bhp). For the Audi A4 produced until January 2004, it often results in rough work on the back. More often it happens while the engine is cold. The problem is caused by fuel injection electronics. The error can be solved by reprogramming the electronics.
Audi A4 B6 2.0 TDI 140 hp. On an Audi A4 manufactured until August 2005, the risk of a cylinder head cracking at one of its clamping points on the engine block. Causes the oil to flow into the coolant. Risk of engine damage if the driver continues to drive despite the instrument panel light on. If a defect is found, they often need to have their head replaced.
Audi A4 B6 2.5 V6 TDI 155 hp. On models produced until the spring of 2003, the Audi A4 will not start, when it is parked downhill with less than 25 liters of diesel in the tank. Problem caused by incorrect positioning of the diesel pump in the tank. Therefore, the pump may end up dry with the inability to draw fuel, while there is still fuel in the tank and the minimum fuel light on the control panel is not lit.
The Audi A4 B6 2.5 V6 TDI water pump is driven by a gear belt and the water pump changes when the gear belt is smaller and smaller.
Audi A4 B6 2.5 TDI, possible turbocharger failure, damage to fuel system, premature camshaft wear.
On 2001 and 2002 models, some cases have premature catalytic converter problems. Most of these catalysts have already been replaced.
If you're buying a 2.5 TDI or 2.0 petrol model that has a new timing belt, make sure the water pump is also replaced - if not, a problem with the old water pump could ruin the engine.
Clutch vibration problem, due to moisture, condensation. Clutch Kit Available to use a modified clutch that will stop the clutch vibration.
Multitronic transmission. On models manufactured until April 2002, transmission ECUs affect management. 2002 recall: reprogramming.
Multitronic transmission can be problematic, so make sure the speed changes are smooth.
Quattro download. On models manufactured up to 2003, possible vibration and resonance transmission around 120 km / h. Possible causes: shaft, joints, bearings, wheel hubs, wheels.
Another weak point of this model is the aluminum suspension, which is consumed fairly quickly on bad roads. When replacing parts, we recommend that you use only genuine parts, as copies run out after several thousand kilometers.
Some Adi A4 B6 2001-2002 tend to pull to the right.
The reason why the servo brake does not work may be that water from the flooded rainwater drain hole has entered the servo brake.
Electric seats. On models manufactured to 2004, the buttons of electrically adjustable seats are sometimes loose.
Central locking in the first models often causes failures. A fault on the capacitor in the control unit causes complete inactivity of the system.
Air conditioning in models before restyling often faces the failure of the fan speed adjustment switch.
For models manufactured until June 2001, there may be an error on the headlamp switch.
Dashboard electronics problems are often related to an integrated immobilizer, which in extreme cases stops working.
---
Used Audi A4 prices - overview
---
CONCLUSION
In short, the second generation Audi A4 B6 is very popular and has a good reputation. Even after driving 200 km, you cannot see the consumption of the inner plastic or the upholstery. But remember that the Audi badge does not guarantee completely trouble-free operation.
---
Audi A4 B6 - Engines
Type engines
cylinders.
Max. power
Gasoline engines
1.6
I4
102 HP (75 kW; 101 bhp)
1.8 Turbo 20v
I4
150 HP (110 kW; 148 bhp)
1.8 Turbo 20v
I4
163 HP (120 kW; 161 bhp)
1.8 Turbo 20v 'S line'
I4
163 HP (120 kW; 161 bhp)
1.8 Turbo 20v 'S line'
I4
190 HP (140 kW; 187 bhp)
2.0 20v
l4
136 HP (100 kW; 134 bhp)
2.0 FSI
l4
150 HP (110 kW; 148 bhp)
2.4 30v
V6
170 HP (125 kW; 168 bhp)
3.0 30v
V6
220 HP (162 kW; 217 bhp)
S4 4.2 40v
V8
344 HP (253 kW; 339 bhp)
Diesel engines
1.9 TDI
I4
100 HP (74 kW; 99 bhp)
1.9 TDI
l4
115 HP (85 kW; 113 bhp)
1.9 TDI
l4
133 HP (96 kW; 131 bhp)
2.5 V6 TDI 24v
V6
155 HP (114 kW; 153 bhp)
2.5 V6 TDI 24v
V6
163 HP (120 kW; 161 bhp)
2.5 V6 TDI 24v
V6
180 HP (132 kW; 178 bhp)
Source: en.wikipedia.org
---
---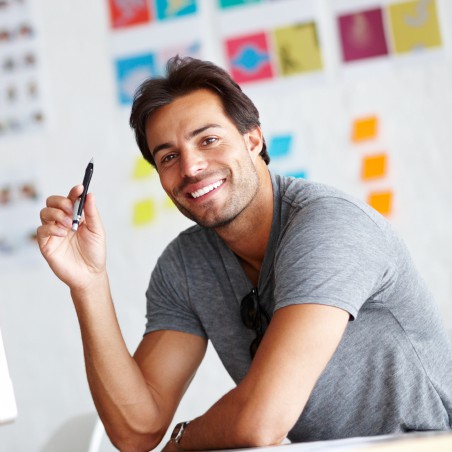 Hi there, I am Mladen and I am an auto enthusiast. I started this blog years ago to help like minded people share information about latest cars, car servicing ideas, used car info, exotic cars, and auto technology. You will find helpful articles and videos on a wide variety of cars - Audi, Mercedes, Toyota, Porsche, Volvo, BMW and much more. Ping us if you have anything cool to share on latest cars or on how to make older cars more efficient, or just want to say hi!