Fiat 1.9 JTD engine, JTDM engine, MultiJet II
The 1.9 JTD common-rail engine was replaced Fiat among the leading manufacturers of modern turbo diesel engines. This successfully designed engine is quite durable and inexpensive to repair.
From a perspective of over 20 years, we can say with certainty that Fiat's contribution to the development of diesel engines has been enormous. In 1986, the Italian manufacturer launched the first direct injection diesel engine, the Croma TDid. Unfortunately it was characterized by loud work and strong vibrations.
UniJet Turbo Diesel Engines - 1.9 JTD
1997. While most manufacturers, led by Vw, are refining or developing direct-injection diesel engines, Fiat engineers have taken another step forward. Introduces the world's first car with innovative turbo diesel common rail injection. Alfa Romeo 156 1.9 JTD (uniJet Turbo Diesel), has launched a revolution in diesel engines.
Common rail technology was a turning point in the history of the Diesel engine. This is where electronics has teamed up with mechanics. In conventional diesel engines the fuel injectors are mechanically controlled, but in modern common rail technology it is used Engine Control Unit (ECU) for electronic control of fuel injector operation. In common rail technology, the common rail supplies all the injectors with fuel. Highway fuel is stored at high pressure. The operation of each fuel nozzle is electronically controlled. The outcome of Common Rail technology was remarkable. This technology has resulted in quiet, smoke-free, powerful and efficient diesel engines. Most car manufacturers have adapted this technology and the European share of the diesel car market has increased from 15% to 50%.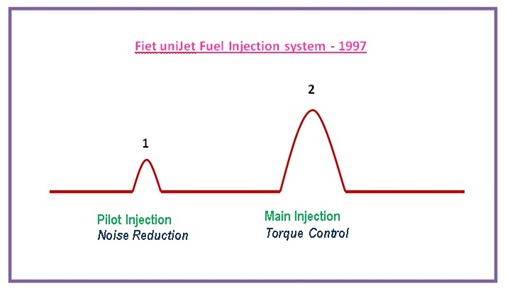 The 1.9 JTD engine of the first generation is a collaboration between Fiat, Magneti Marelli and Bosch. The JTD replaced Fiat's worn-out 1.9 TD engine and appeared in the power range - 80, 85, 100, 105, 110 and 115 hp. Engines with powers of 100, 110 and 115 hp are equipped with a turbine with variable geometry, other engines have a turbine of fixed geometry.
Multijet JTDM technology
The range of Fiat's common rail 1.9 engine is divided into two phases. The first lasted from 1997 to 2002 with the 1.9 JTD engine with the first generation of common rail injection, and the second from the end of 2002. When the modernized JTDM (Multijet 1st generation) variant with the second generation common rail injection was introduced.
In 2002, the JTD engine was modified - the new Multijet unit (JTDM) differed from its predecessors, among other things, by increased fuel injection pressure (through the use of a second-generation Common Rail system). Stronger versions (140, 150 and 170 hp) have four valves and two camshafts and a turbine of variable geometry, weaker (105, 120, 130) - "only" eight valves. There is also a version with dual charge Twin Turbo Multijet in two variants - 180 and 190 hp. Both give 400 Nm of torque at 2.000 rpm. Thanks to the collaboration with General Motors, Fiat Multijet engines have been installed in Opel (Astra, Vectra, Vectra, Zafira as CDTI), Saab (9-3, 9-5 TiD and TTiD) and Cadillac (BLS). Suzuki also appears on the list of users of this engine, an engine mounted in a model jointly developed with Fiat, on the SX4.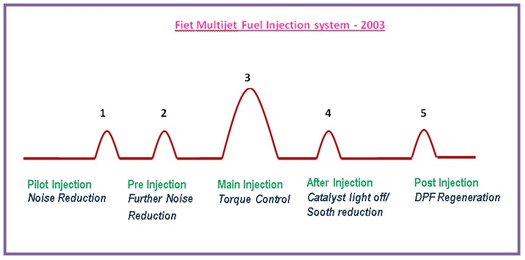 There are two major differences with MultiJet technology over previous JTD engines. One is injectors and the other is Control Unit Electronics. With a JTD engine, you will only find two injections within a single combustion cycle. Pre-injection (Injection Pilot) which raises the temperature and pressure inside the cylinder to improve main combustion. In Multijet engines, cycle injection is divided into several smaller injections (five injections), which provide fully efficient and stable combustion within the cycle. Here, the quantities of diesel burned in each cycle remain the same, more small injections at a certain interval within the cycle give smoother, quieter combustion with high efficiency and low exhaust emissions. All of these injections are electronically controlled in relation to several factors such as engine rpm, torque required for a specified period of time, and temperatures.
MultiJet II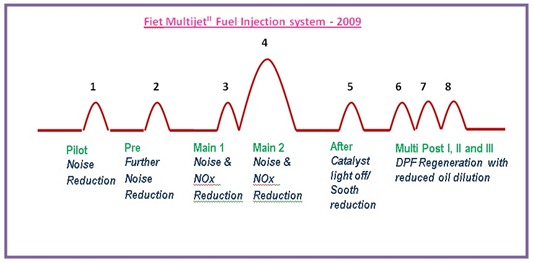 For MultiJet II fuel nozzles Fiat Powertrain Technologies (FPT), fuel nozzle closure is hydraulically balanced to avoid reducing shutter stroke. New servo valves facilitate precise control of the injected amount of fuel into the combustion chamber, through eight consecutive injections. Injection Rate Shaping (IRS) injection mode results in better combustion control, reduces noise, controls exhaust emissions and achieves more efficient fuel combustion. MultiJet II technology is a major step towards meeting Euro 6 standards.
As JTD and JTDM engines turned out
Both JTD and JTDM versions have their advantages and disadvantages. JTD engines (power: 80, 85, 100, 105, 110 and 115 hp) for the first few years of production that can only satisfy Fiat cars, high vibration transmitted to the interior, as well as a large turbo hole.
Compliments for relatively low combustion, good dynamics and, most importantly, a small number of major failures. Problems with the fuel pressure regulator, flowmeter and EGR valve.
The rather long life of the fuel injection system is not sensitive to poor fuel quality, as the systems used in competitive period structures. They also represent decent durability of turbochargers (especially with fixed geometry - variants: 80, 85 and 105 hp).
Generally the biggest problem is the older JTD versions, most cars already have very high mileage.
The 1.9 JTD engine is one of the more successful engines. Failures faced by users are: fuel pressure regulator, thermostat failure, flowmeter damage, EGR valve and crankshaft position sensor failure, intercooler rubber hose splitting.
Turbine durability is estimated fairly well, failures are most commonly associated with controlling or interfering with turbine geometry changes. Overboost valve (set low in style and sensitive to external factors). JTDM units have problems with electronics and floating flywheel failure, also increased engine oil consumption. It should also be noted that the prices of certain parts of the JTD engine are much lower than for the JTDM.
CONCLUSION 1.9 JTD
The 1.9 JTDs are a fairly durable engine, and secondly, even if something goes wrong, the repair will not be too expensive, and thirdly, you can count on good access to spare parts, due to the high popularity of the engine. A particularly good choice is the 1.9 engine in the version with 120 hp and 8 valves - good durability, very cheap repairs, low fuel consumption and good dynamics. Engine 1.9 JTD, pay attention to -
Today, we can say with certainty that the 1.9 JTD engine and its modified version of the JTDM, a successful diesel - efficient, dynamic and sustainable.
Production of the 1.9 JTD engine was largely completed in 2012, but still on offer was the Twin Turbo.
---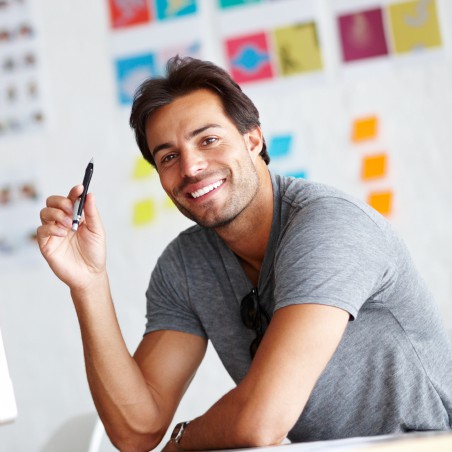 Hi there, I am Mladen and I am an auto enthusiast. I started this blog years ago to help like minded people share information about latest cars, car servicing ideas, used car info, exotic cars, and auto technology. You will find helpful articles and videos on a wide variety of cars - Audi, Mercedes, Toyota, Porsche, Volvo, BMW and much more. Ping us if you have anything cool to share on latest cars or on how to make older cars more efficient, or just want to say hi!